Date/Time
Date(s) - 13 Nov 2022 - 20 Nov 2022
3:30 pm - 2:00 pm

Location
Belsey Bridge Conference Centre
Belsey Bridge Road, Ditchingham
Bungay
NR35 2DZ
United Kingdom
About The Retreat
We are more than thrilled to announce that the "real-life Ajahn Brahm" is returning to England this Autumn, after almost three years, to teach his second 8-day silent residential retreat (ever) in the UK! Venerable Canda will also offer some teachings to assist the retreat.
Despite the pandemic circumstances that prevented Ajahn Brahm from travelling outside Australia in recent years, Ajahn fulfilled his unwavering commitment to Anukampa by teaching two seven-day online retreats (and many other talks) along with Venerable Canda, in 2020 and 2021. The retreats were extremely well received, with over 150 full-time attendants benefitting profoundly. However, nothing beats meditating alongside spiritual friends and we are eagerly awaiting this event as a special opportunity to practice as a community. We will receive personal guidance from our revered and beloved teachers Ajahn Brahm and Venerable Canda, in a metta-infused atmosphere that together we will co-create.
Feedback from participants:
"I wanted to express immense gratitude for such a wonderfully, peaceful, enlightening, humorous and  profound retreat. The final "salute" from Ven Canda and Ajahn Brahm was incredibly moving and underscored the delight of being one with a spiritual community. Your teachings and sharing of the Dhamma have already transformed my life in ways that cannot be quantified."
"I love that Ajahn and Venerable know so well how to speak to our mind and especially to our heart.  In every talk, I feel the Buddha talking directly to me and my problems through your wise and kind words." 
"The retreat gave me very intensive and beautiful insights regarding inner peace, the meaning of life and the way of experiencing any kind of feeling: from love to sadness (very beautiful feelings as they are on the way of slowly fading out or taking them from another point of experience). This retreat  gives another perspective on life, love, care, and peace. The way you spread (those things) forward is such a strong message for the world and humans. Meditation can be mind-blowing and what you do is mind blowing."
A Donation-Based Retreat!
This retreat is also an experiment! Even though we are still fundraising for a monastery where Ven Canda will reside, we are aware of the toll the pandemic has taken on many of us in different ways and want to give everyone a chance to come regardless of what they can offer.
So, we are going to do this on a donation basis and hope that everything gets covered! Please read the section below on "costs," to find out more about how this will work.
Retreat Description
The retreat will take place in the superb, tranquil Belsey Bridge Conference Centre on the Norfolk & Suffolk border. The venue, set in twenty acres of beautiful grounds, is designed to support silent meditation, and there is plenty of peaceful surrounding countryside to explore. With a group of seventy people, we will have sole use of the centre allowing for everybody to have their very own single room! Indoor facilities include three large meditation halls, spacious dining and common areas, and clean, comfortable bedrooms. And, as if that were not enough, Belsey Bridge is well known for the excellent quality of its locally sourced, vegetarian food and can cater to special diets.
As these last few years of the pandemic have shown us, life is largely out of our control. No amount of wishing or wanting can prevent us from encountering the challenges of life. Fortunately, we have very wise and learned teachers, such as Ajahn Brahm, to teach us the art of disappearing; a way to ever increasing peace and contentment.
In this retreat, Ajahn Brahm will show us the way to reduce our expectations and follow the Buddha's path of understanding and non-clinging. Gradually, as we turn away from the outside world, and turn our attention inwardly to our present moment experiences, our understanding grows, and we can learn to let go of our desire for control. We learn how it feels to experience the great freedom of disappearing. Embodying everything he teaches and with an extraordinary ability to inspire, Ajahn Brahm is the perfect person to guide us in the joyful art of disappearing!
Tentative Retreat Schedule
Ajahn Brahm has a relaxed approach to meditation. This allows everyone to find their own pace and ease in the practice. Below is a rough schedule to give you an idea of what you can expect, including talks, guided meditations, sutta classes, Q&A and group interviews with Ajahn Brahm. Ample time will be available for relaxing and walking in the countryside, or in the specially designated 'walking meditation hall', according to the needs of your body, heart, and mind.
The retreat will unfold roughly as follows:
Day 1: Opening Day (Sunday 13th Nov 2022)
15:30 – 17:30 Arrivals: Registration and Settling In
18:00 – 19:00 Tea
19:00 – 20:15 Orientation and Opening Talk, Noble Silence Begins 
20:30 – 21:30 Guided Meditation
21:30 – 06:00 Rest
Days 2 – 7 (14th – 19th Nov 2022)
06:00 – 07:15 Chanting & Group Meditation
07:15 – 08:30 Breakfast and Rest
08:30 – 09:30 Morning Dhamma Talk
09:30 – 11:30 Personal Practice
(09:45 – 11:00 Days 3-6 or 7: interviews in allocated groups of sixteen or twenty – 1 group interview each during the retreat)
11:30 – 14:00 Lunch, Rest, Personal Practice
14:00 – 15:00 Personal Practice
15:00 – 16:00 Guided Meditation
16:00 – 17:00 Optional Sutta Class: "Word of The Buddha"
17:00 – 18:00 Personal Practice
18:00 – 19:00 Tea and Rest
19:00 – 20:00 Group Meditation
20:15 – 21:30 Anonymous Q&A From The Box!
Day 8: Closing Day (Sunday 20th Nov 2022)
06:00 – 07:15 Chanting and Group Meditation
07:15 – 09:30 Breakfast, Check Out of Rooms by 9.30 am
09:30 – 10:00 Closing Talk
10:00 – 10:30 Guided Loving Kindness Practice
10:30 – 11:00 Discussion On Anukampa Bhikkhuni Project
11:00 Noble Silence Lifts!
11:30 Lunch
Departures before 2 pm.
The Ethical Precepts 
Venerable Ānanda once asked the Buddha:
"Venerable, what is the purpose and benefit of skillful ethics (sila)?" The Buddha answered, "So, Ānanda, the purpose and benefit of skillful ethics is not having regrets (avippati). The purpose and benefit of not having regrets is joy (pamojja). The purpose and benefit of joy is bliss (piti). The purpose and benefit of bliss is tranquillity (passaddhi). The purpose and benefit of tranquillity is happiness (sukha). The purpose and benefit of happiness is stillness (samadhi). The purpose and benefit of stillness is seeing things as they truly are. The purpose and benefit of seeing things as they truly are is revulsion (nibbida). The purpose and benefit of revulsion is dispassion or fading away (viraga). The purpose and benefit of dispassion is knowledge and vision of liberation (vimuttinyanadassana). So, Ānanda, skillful ethics progressively leads up to the highest." (Anguttara Nikaya 11.1) 
Here we can see how practicing ethical precepts creates a strong foundation for the development of deep meditation.
By coming to the retreat you are agreeing to train in observing the Eight Precepts. If you require food in the evening for health reasons, please bring along simple snacks that you can store in the common fridges. (See below for further details).
The Eight Precepts – Aṭṭhaṅgasīla
I undertake the training-precept to abstain from killing living beings.

Pāṇātipātā veramaṇī sikkhāpadaṃ samādiyāmi.

I undertake the training-precept to abstain from taking what is not given.

Adinnādānā veramaṇī sikkhāpadaṃ samādiyāmi.

I undertake the training-precept to abstain from sexual conduct.

Abrahmacariyā veramaṇī sikkhāpadaṃ samādiyāmi.

I undertake the training-precept to abstain from false speech.

Musāvādā veramaṇī sikkhāpadaṃ samādiyāmi.

I undertake the training-precept to abstain from alcoholic drink or drugs that cloud the mind and cause heedlessness.

Surā meraya majja pamādaṭṭhānā veramaṇī sikkhāpadaṃ samādiyāmi.

I undertake the training-precept to abstain from eating at the wrong time (after solar noon).

Vikāla bhojanā veramaṇī sikkhāpadaṃ samādiyāmi.

I undertake the training-precept to abstain from dancing, singing, music, going to see entertainments, wearing jewellery, using perfumes, and beautifying the body with cosmetics.

Nacca gīta vādita visūkadassanā mālā gandha vilepana dhārana maṇḍana vibhūsanaṭṭhānā veramaṇī sikkhāpadaṃ samādiyāmi.

I undertake the training-precept to abstain from using high or luxurious beds and seats.

Uccāsayana mahāsayanā veramaṇī sikkhāpadaṃ samādiyāmi.
Accommodation and Facilities
1. Rooms and Bathrooms
Some 71 rooms are spread across 2 floors and one wing is specially designed for disabled access. There are a total of 8 wings, with 6 kitchenettes (containing a fridge, kettle and a selection of tea) shared across them.
The rooms comprise 24 standard rooms (with shared bathroom) and 47 en-suite rooms (with attached bathroom). Throughout the building there are ample shower blocks and toilet facilities, which are cleaned daily, and 3 common bath tubs to soothe aching muscles or just have relaxing soak.
2. Disabled access
26 rooms are on the ground floor. There are 2 disabled access bathrooms/toilets, and 1 further disabled access toilet. Four standard rooms are close to disabled facilities and 2 en-suite rooms have disabled access bathrooms.
Two wheelchairs are also available for use and there is a wheelchair lift to the main hall, which is down a few stairs.
Please let us know if you require disabled facilities or a ground floor room and we will do our best to meet your needs.
3. Meeting rooms and lounges
The majestic Norfolk Hall will be used as our main meditation room. This is a large carpeted room with comfortably padded chairs, floor to ceiling windows, and gas heaters which glow with a red hue! The wooden-floored Suffolk Hall and the Waveney Hall are available exclusively for indoor walking meditation. Four smaller halls, two lounges and several additional common rooms provide ample space for group interviews and for simply relaxing in solitude and ease.
The dining hall is spacious and opens directly onto grounds. There you will find tea, coffee and hot chocolate on tap, 24 hours a day. There is no access to the kitchen, as the staff at the venue prepare the food and do the washing up!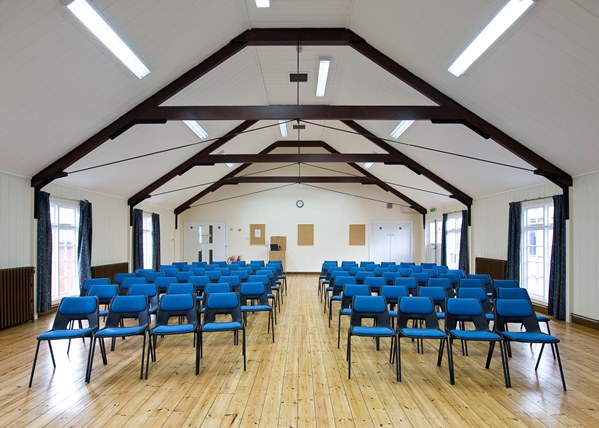 Food and Drink
Food will be simple vegetarian with a vegan option. Coffee, hot chocolate and a variety of tea is available around the clock. During this retreat we will abstain from eating in the evening to support the deepening of meditation. Please therefore note that only breakfast and lunch will be provided. 
If you require food in the evening for medical purposes, please ensure that you bring along simple snacks that are easy to store in your room, or in the common fridges/kitchenettes (such as flapjacks, cereals, instant noodles or cheese), as there is no cooking facility available.
Costs And Donations
We are very excited to be offering this much-awaited retreat on a donation basis! Only a non-refundable registration deposit of £180 will be asked to ensure your commitment to the retreat. Your accommodation, food and drink and the use of all facilities are being covered by Anukampa Bhikkhuni Project's savings fund so that everyone has the opportunity to attend this retreat, and as a token of our gratitude, those who have been supporting Anukampa over the years will be given priority. With a total hire cost for the venue of around £40,000 (no matter how many attend), you might say we are taking a chance, yet from our perspective we are giving you a chance – to the experience the joy of giving for the ultimate benefit of yourself and others and to experience the gratitude of receiving without any expectation in return :).
The costs for this retreat are roughly £600 per person based on a single room occupancy with a shared bathroom, or £750 for a single ensuite room. This does not include travel or accommodation costs for the Teachers or our volunteer retreat manager. We encourage you to contribute at your discretion, with a heart of generosity and according to your means, so that we can continue spreading the Dhamma further.
You will also have an opportunity to offer donations in honour of the priceless teachings of the Buddha and the wisdom, time and commitment of our Teachers. As monastics, neither Ajahn Brahm nor Venerable Canda receive any personal remuneration, so donations over and above the total costs of the retreat will go towards the development of the first Bhikkhuni Monastery in the UK. Having a base will enable us to organise future teachings and retreats far more easily. As Anukampa is a Religious and Educational UK Charity, all UK donations are tax deductible.
If you would like to contribute towards Ajahn Brahm and Venerable Canda's accommodation and travel expenses, you are welcome to donate here, reference: 'monastic costs.'
Getting There
Important! You need to type Belsey Bridge Conference Centre on Google Maps, rather than rely solely on the postcode as it will bring you to the wrong location!
The closest airport is Norwich, which is 40 minutes away.
The nearest train station is Norwich Train Station.
The bus station is Norwich City Centre.
By Train to Norwich:
There is a frequent train service from London Liverpool Street to Norwich station which takes around 2-3 hours on a Sunday, depending on the time of day. Advance tickets are likely to be much cheaper than tickets on the day, and it is usually possible to buy these around two months in advance.
From Norwich Train Station, the easiest way to reach Belsey Bridge is by taxi. It takes about 30 mins and costs around £24. Alternatively, you can take bus no.7 then bus 88 (please see the Belsey Bridge website).
By Bus to Norwich- The Cost-Effective Option:
By bus, it takes 2 hours 15 minutes from London Stratford International (Bus Station). Stratford is easy to reach via the London Underground on the Central Line. From Stratford to Norwich City Centre, costs are as low as £7 one-way but you must book early.
From Norwich City Centre you can take bus 87 to Bungay for 49 minutes and stop at Drapers Lane. From there it is a 13 minute walk to the Belsey Bridge Conference Centre. Please always check the bus company website as most likely the schedule changes in winter seasons.
From Norwich By Taxi:
Five Star Taxis (01603 455 5555) normally charge around £24 from Norwich Train Station, or £32 from Norwich Airport, to the Conference Centre.
We will be posting a lift-share document nearer the time to help you coordinate your travel with other retreatants in case you wish to share a taxi or car ride.
By Car to Belsey Bridge:
The quickest way to The Belsey Bridge is by car, since you don't need to go to Norwich first.
For more further information on getting to the retreat by car or bus, please go the Belsey Bridge website here.
Note: Please do not contact the Belsey Bridge Conference Centre directly as the staff only have the capacity to liaise with Anukampa's booking's team.
Any further enquiries can be directed to bookings@anukampaproject.org
Covid Policy And Procedure
Depending on government guidelines and the requirements of the retreat centre relating to the covid situation closer to the time:
Everybody will be expected to have proof of full vaccination and a negative Covid Test within 24 hours before arrival and be prepared to take at least one test during the retreat (please bring your own lateral flow test kits).
For the safety of your fellow retreatants we would be grateful if you could limit your social contact and use of public transport in the week leading up to the retreat.
Wearing a FFP2 type mask may be compulsory in communal areas.
If you test positive at any time during the retreat, you will be asked to leave the retreat centre, so please consider in advance how you would travel back home in such circumstances. We recommend that international retreat attendees take out travel insurance to cover covid-related changes to travel plans. UK attendees can get staycation travel insurance to cover potential cancellation as a result of a positive covid test.
More specific and updated information will be provided later.
We kindly ask that you cooperate with the policy in place at the time of the retreat, for the safety of the community as a whole and to assist the retreat organisers in the smooth-running of the retreat. We thank you for your understanding.
Application Procedure
Congratulations, you made it here!
Next steps:
1. Please ensure you have read all the above information carefully first and then fill in the application form below. At this stage you will not be required to make a payment.
2. After submitting your application form, you should receive an email confirming that we have received your application within a couple of minutes. Please check your junk mail inbox if you do not receive it. If it is not in your junk mail please contact us. We advise you to add our email address, bookings@anukampaproject.org, as a contact to prevent emails from us going into your junk folder. 
3. We will try our best to approve your application within two weeks, so please do not contact us during this time. Once your application is approved, you will be required to settle the non-refundable deposit (£180) within a week to secure your place.
If the retreat is fully booked and there is a waiting list, we will try our best to offer your ticket to someone on the waiting list. So please do let us know if you will not be able to come to the retreat. 
PLEASE DO REFRESH YOUR PAGE before filling in the form to be sure of the latest availability. If you see "Booking could not be created. There was a problem saving the booking", please refresh and try again.
THIS RETREAT IS FULL. YOU ARE APPLYING FOR THE WAITING LIST.
Bookings